Our Staff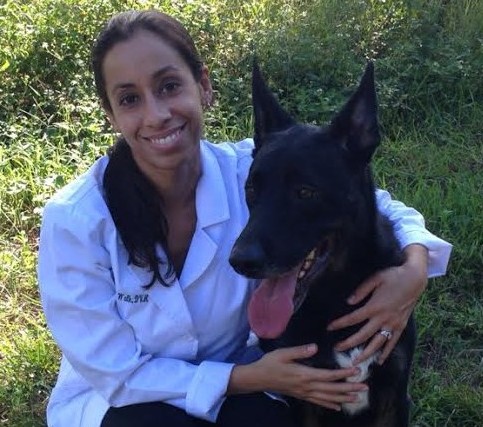 MELISSA WALK, DVM
Dr. Melissa Walk has a Bachelor's of Science Degree in Biology from the University of South Florida and graduated from the University of Florida College of Veterinary Medicine in 2008.  She has lived in the greater Tampa Bay area most of her life and has worked in Hillsborough and Pinellas county as a veterinarian for a number of years.  She believes that taking the time to get to know your pet and family is crucial in delivering consistent and effective medical care.
In her free time, she enjoys spending time with her two and four-legged family, jogging, and gardening. Her family consists of her husband, twin girls, son, domestic short hair cat (Nermal), 3 German Shepherd dogs (Tango, Cash, Renegade), and a Husky/Shepherd mix (Brandy). She resides in Clearwater and looks forward to getting to know your family.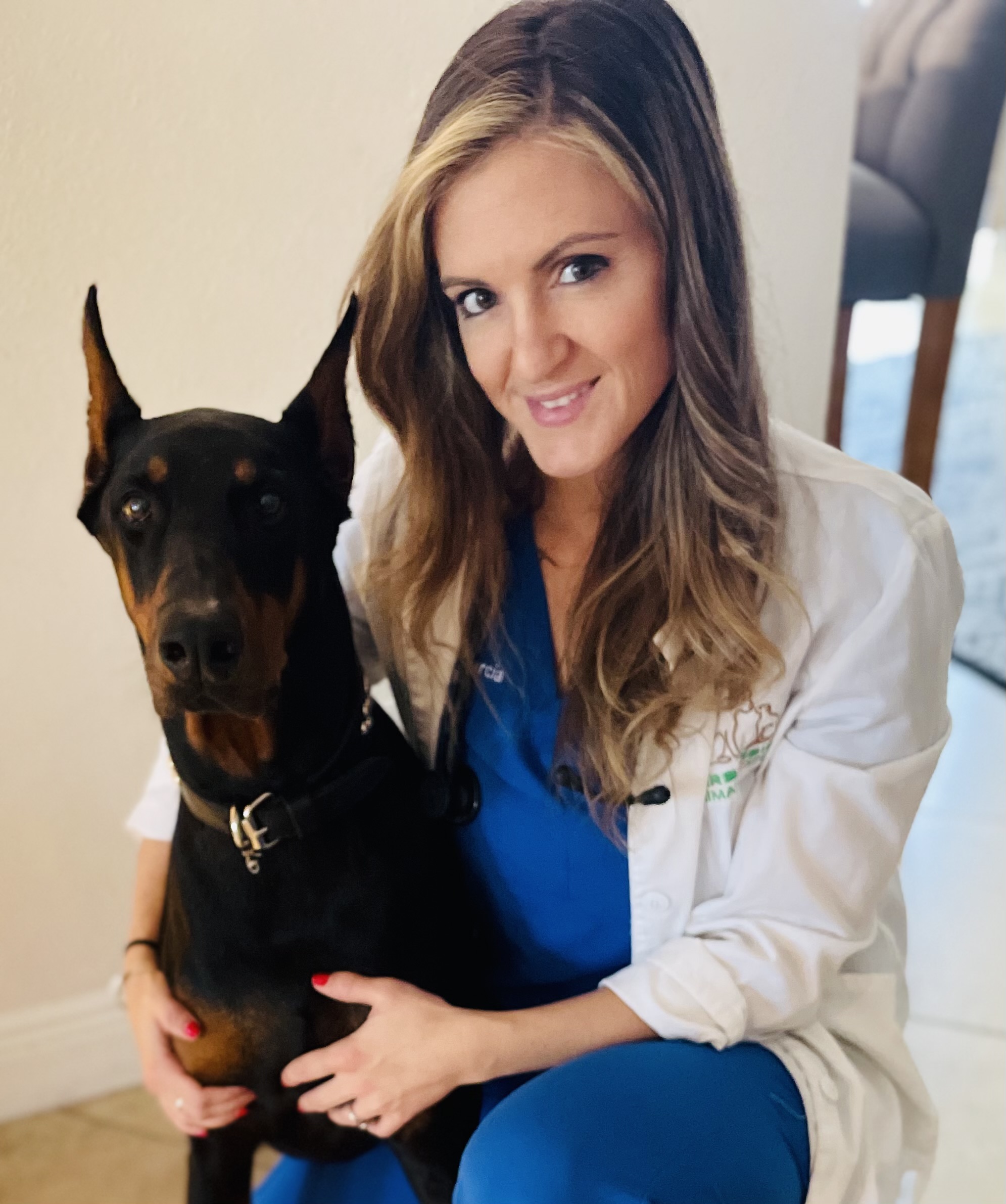 KIMBERLY GARCIA, DVM
Dr. Kimberly Garcia has a Bachelor's of Arts from Connecticut College where she studied Cellular and Molecular biology as well as Mandarin Chinese.  She then went on to pursue her lifelong dream of becoming a veterinarian and acquired her DVM from Cummings School of Veterinary Medicine at Tufts University. Kimberly was born and raised in Massachusetts, but recently moved to the Tampa Bay area to be with her husband who is also a veterinarian. She has special clinical interests in surgery and oncology.
Along with her passion for animals is her love for cooking and running. She and her husband currently own an energetic Doberman Pinscher named Wesson and a domestic short hair cat named Moo (who they rescued from Puerto Rico). Family is very important to Dr. Garcia, and she wants to make sure the furry members of your family are healthy!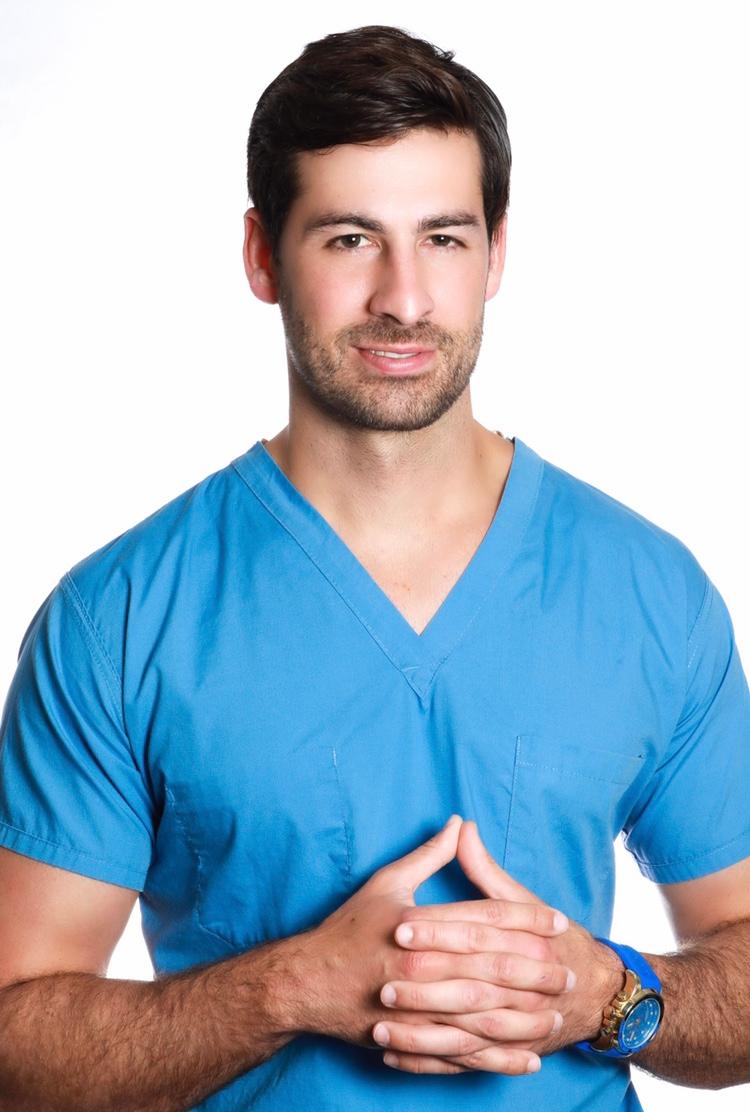 CARLOS GARCIA, DVM
Visiting Veterinarian
On occasion, we may call in Dr. Garcia to perform surgeries for our patients. He provides our clients an additional option for those that are unable to pursue specialized care. We are able to offer with his assistance, advanced procedures such as TPLO's, patella luxation repairs, fracture repairs, and a wide variety of soft tissue surgeries at a reduced cost.  For more info go to affordableTPLO.com
Dr. Carlos Garcia has a Bachelor's of Science from the University of North Carolina at Asheville where he studied Cellular and Molecular biology and is a 2015 graduate of Ross University School of Veterinary Medicine. He worked as a general practitioner in Miami and Tampa Bay for three years. He then completed a Small Animal Surgery specialty internship at Affiliated Veterinary Specialist.
On his free time he enjoys the beach life, working with cars, cooking, weight lifting, and most importantly spending time with his wife and family.
He as well as Dr. Melissa Walk and Dr. Kimberly Garcia are fully bilingual.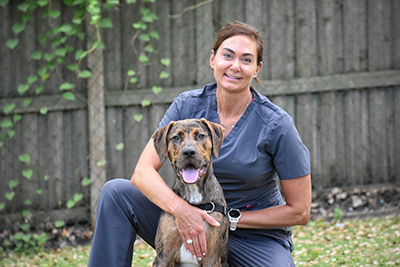 KELLI WEAVER, VMD, DACVIM
Traveling Internal Medicine Specialist
Dr. Kelli Weaver has been working as an internal medicine specialist in the area since 2005.  After graduating from the University of Pennsylvania in 2000 she completed an internship at Georgia Veterinary Specialists in Atlanta, Ga and then stayed a year to run their emergency department before heading to Massachusetts to complete an internal medicine residency at Tufts University. She headed down to the Tampa Bay area in 2005 and started working at Tampa Bay Veterinary Specialists where she was for 15yrs and then moved to CARE for 2 years before deciding to start a mobile internal medicine service.  In addition to providing specialty care she is on the board of directors for the Humane Society of Pinellas County and is starting a nonprofit to help support animals in need.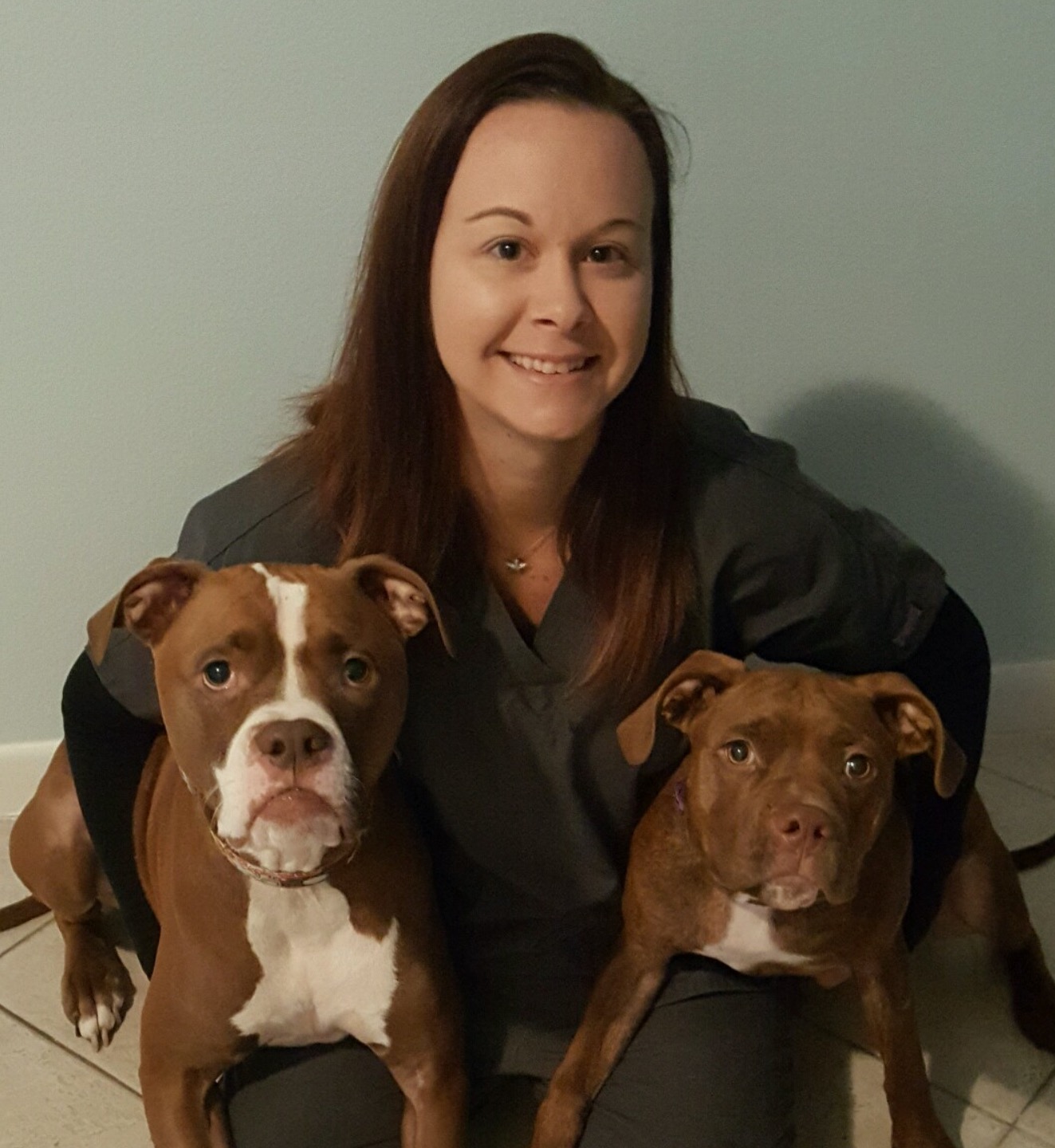 HEATHER
Practice Manager, CVT
Heather is a certified veterinary technician and obtained her Associate's Degree in Veterinary Technology from St Pete College. She has more than 15 years of experience in the veterinary field.  She loves her job and is devoted to providing each patient and client with the highest quality of care and compassion. She has 3 spoiled pit bulls she rescued. Their names are Moochi, Carmen, and Neko. She enjoys spending time with her husband and their daughter, crafting, and going to the beach. Heather worked with Dr Walk at a previous clinic before Harborside Animal Hospital opened.  She has now worked at Harborside Animal Hospital since we opened in 2014.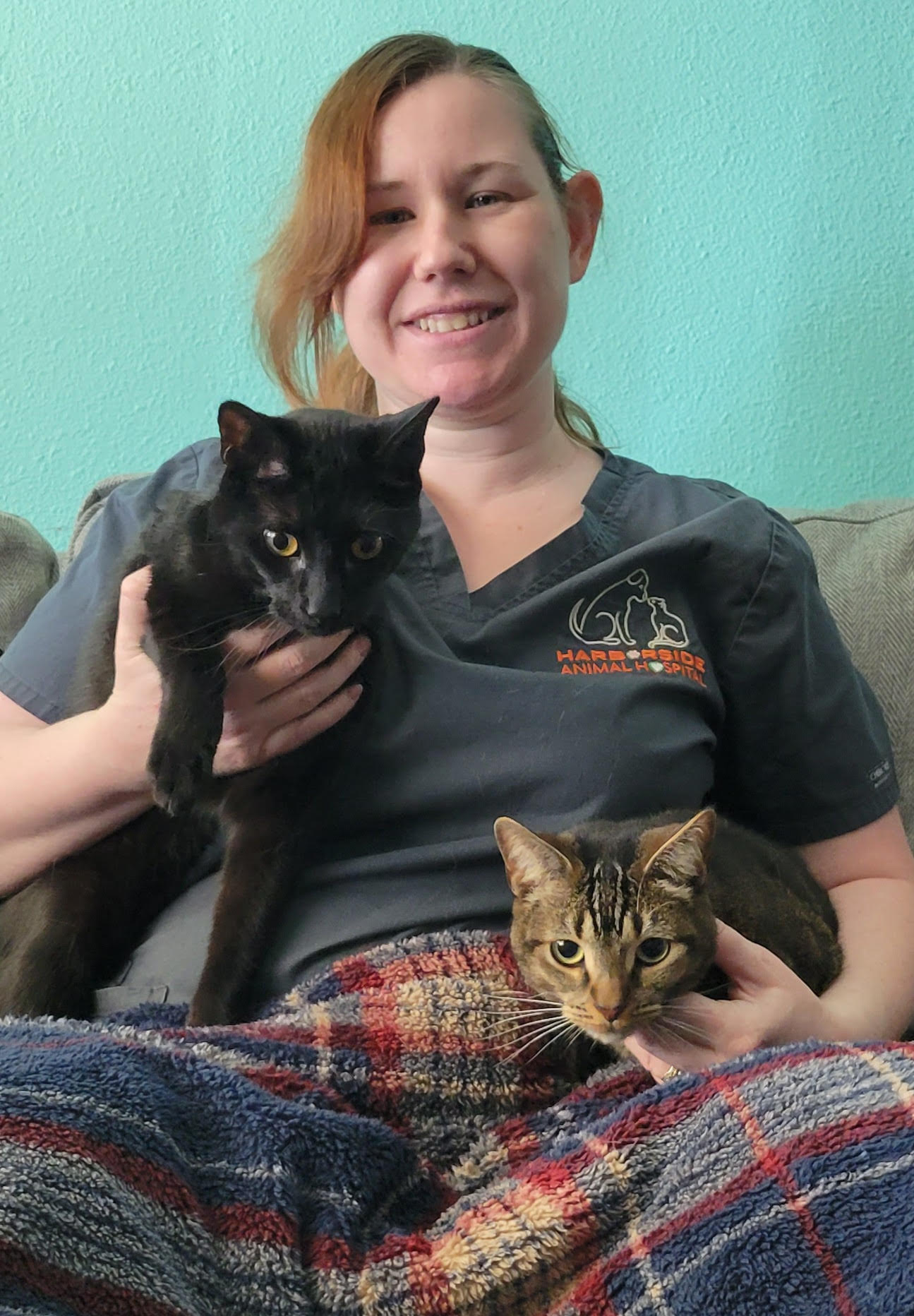 BETHANY
Assistant Manager, CVT
Bethany is a certified veterinary technician who has been working in the field for about 8 years.  She graduated with her associates in science of veterinary technology from SPC in 2015 and passed her certification exam soon after. She originally joined the Harborside team in late 2014, but took a small break 4 years later to focus on starting her family and rejoined us last year.  Bethany loves surgery, dental cleaning, and teaching,  and really enjoys working with her furry patients and their families.  She has an especially soft spot for orange cats.
She shares her home with her husband,  their daughter, and 4 cats named Ayashi, Dexter, Kaitou Kidd, and Cubby. Although many of her passions have recently taken a back seat to her new role as a parent, Bethany enjoys baking, dabbling in various crafts, playing video and tabletop games, and reading comics.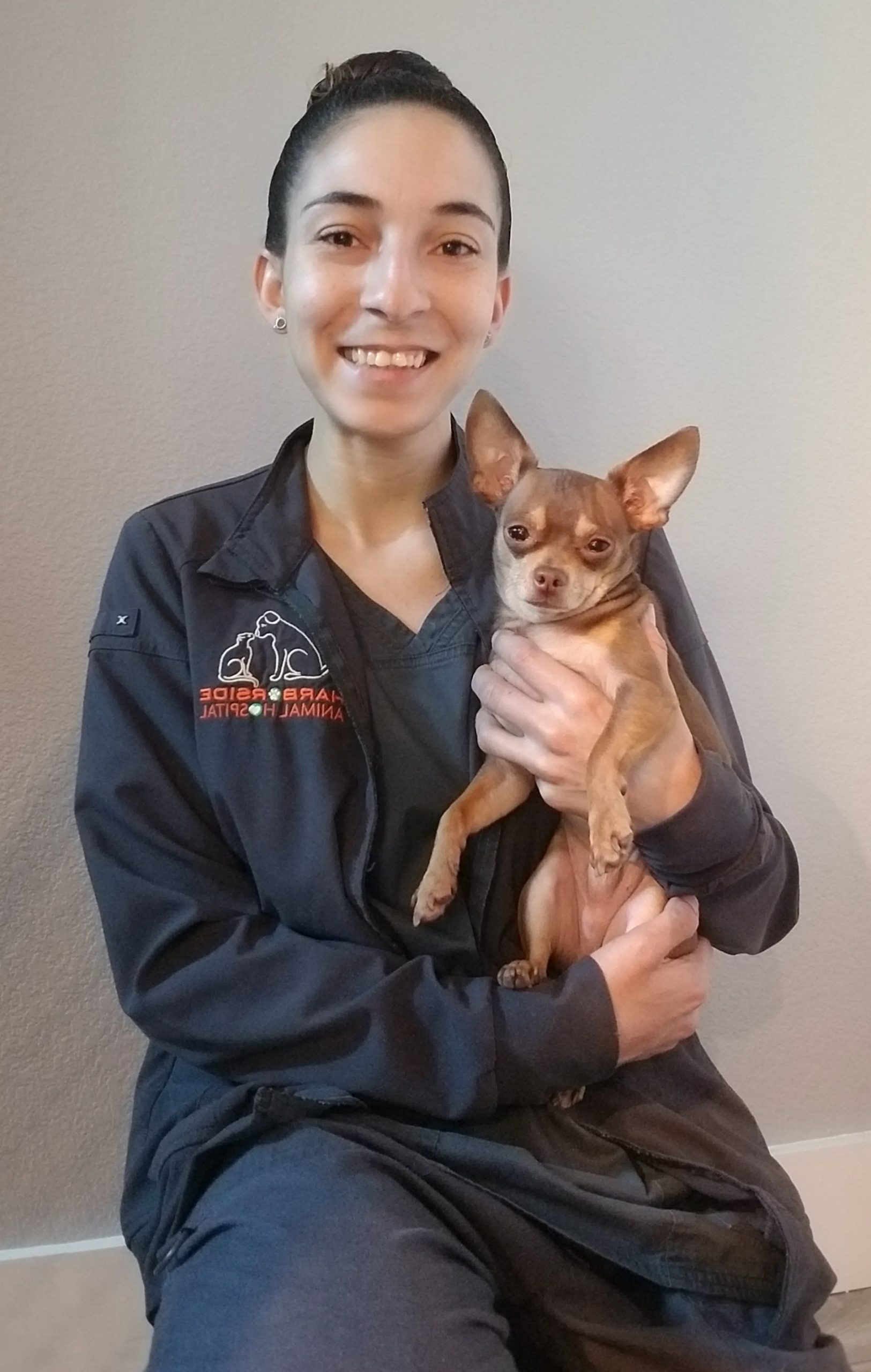 ASHLEY
Veterinary Technician, Inventory Manager
Ashley is a dedicated veterinary technician who has over 11 years of experience.  Ashley worked with Dr. Walk at a previous clinic before Harborside Animal Hospital opened.  She has now worked at Harborside Animal Hospital since we opened in 2014.  Ashley has 1 Shih Tzu named Bonnie and a rescue chihuahua named Clyde. She also has Porter a rescued domestic long hair cat and Bentley a rescued domestic shorthair cat.  She enjoys crafting and listening to music in her spare time. She thoroughly enjoys helping all animals and can't wait to meet you and your four legged family members.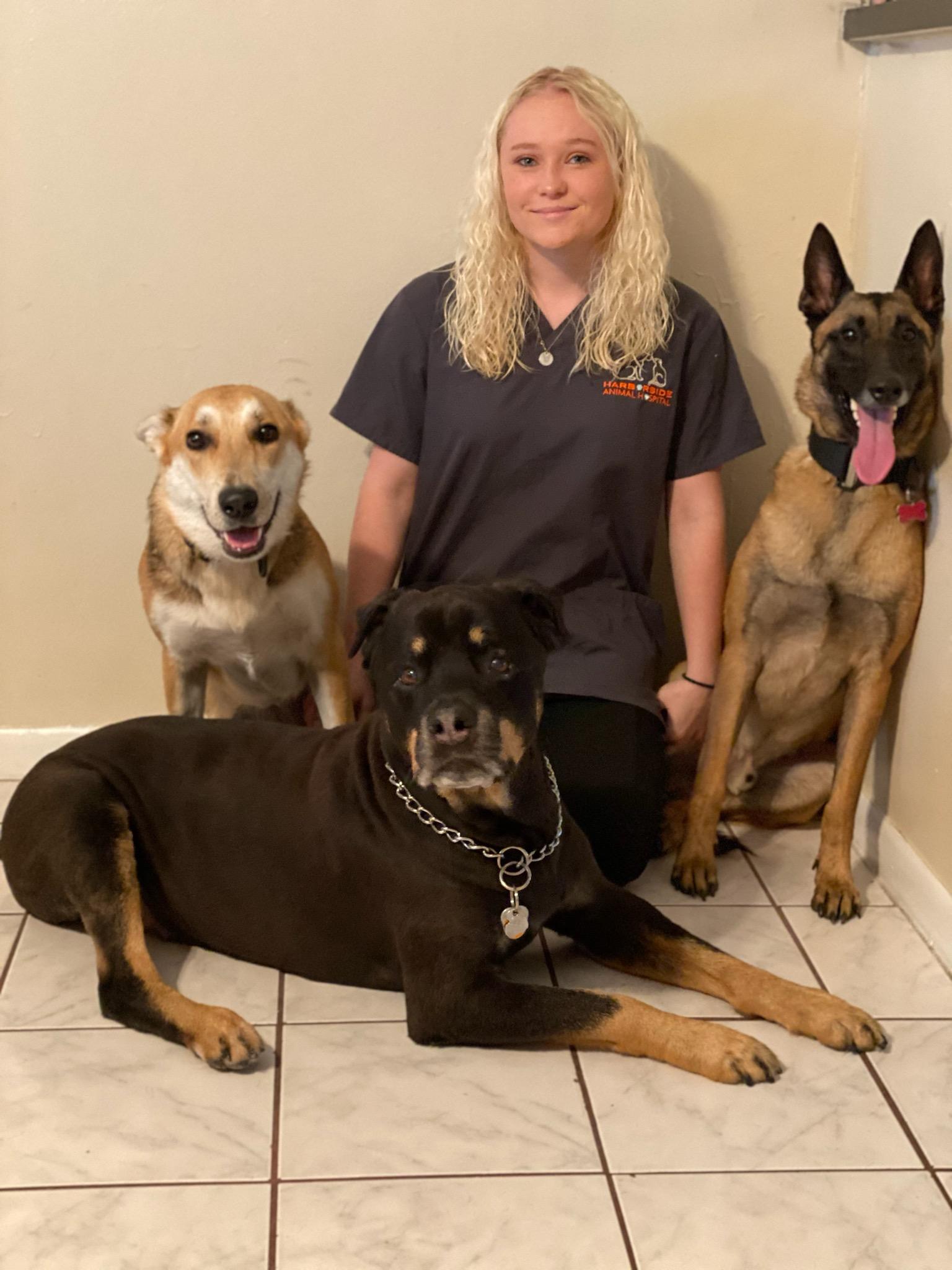 DANIELLE
Shift Lead, Veterinary Assistant
Danielle is a dedicated veterinary assistant whom has been with Harborside Animal Hospital for almost 4 years now.  She enjoys spending her time outdoors with her three dogs. Their names are Levi, Roo, and Nitro. Her free time usually consists of being outdoors running, tubing, or reading. Danielle is currently attending St Petersburg college in hopes of one day becoming a Veterinarian herself.  Danielle has always shared a strong passion for animals from a young age & she cannot wait to meet you and your four legged family members.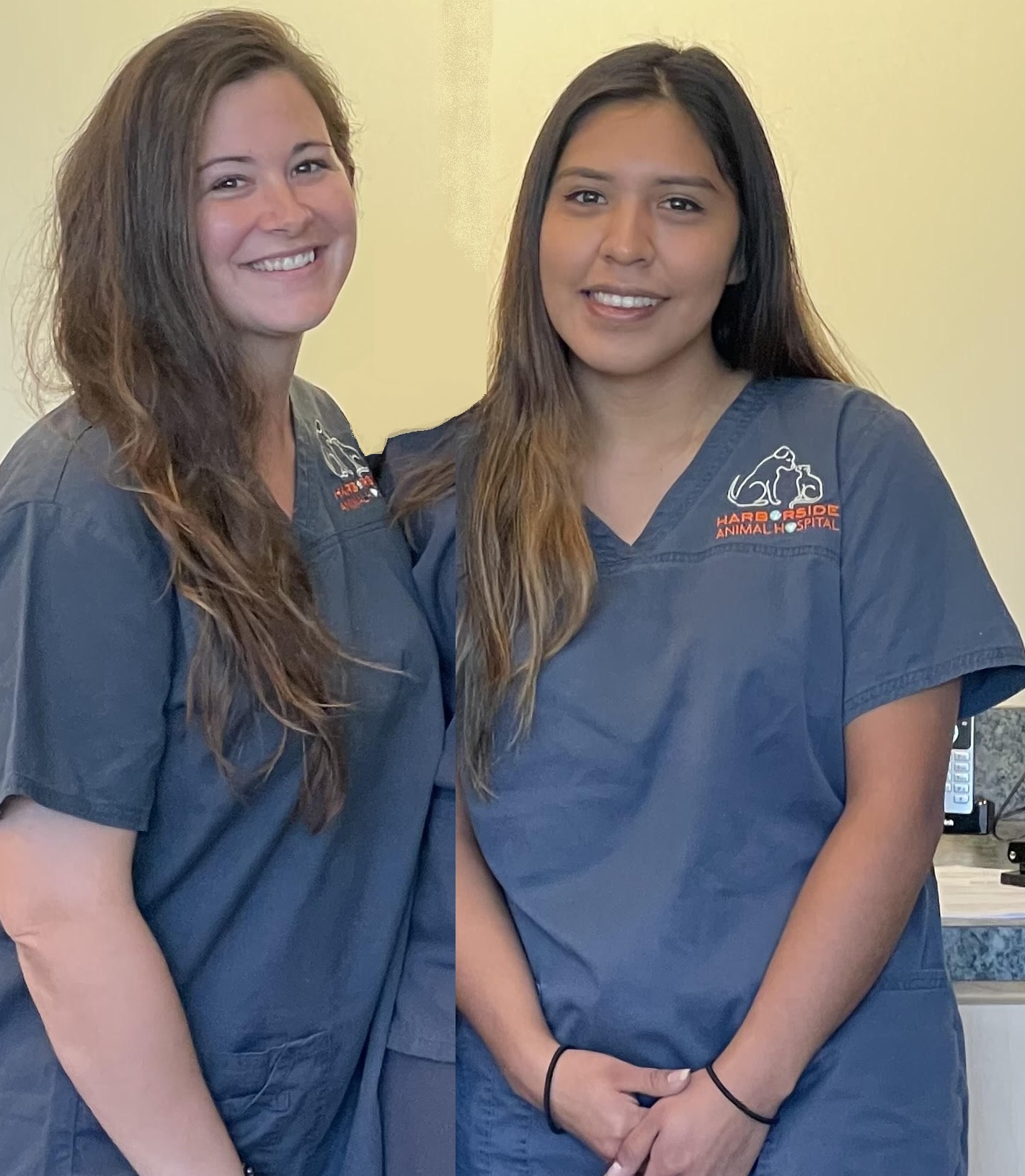 RECEPTIONISTS
Our dedicated reception team is are here to help coordinate your visit and provide top of the line service for you and your pets!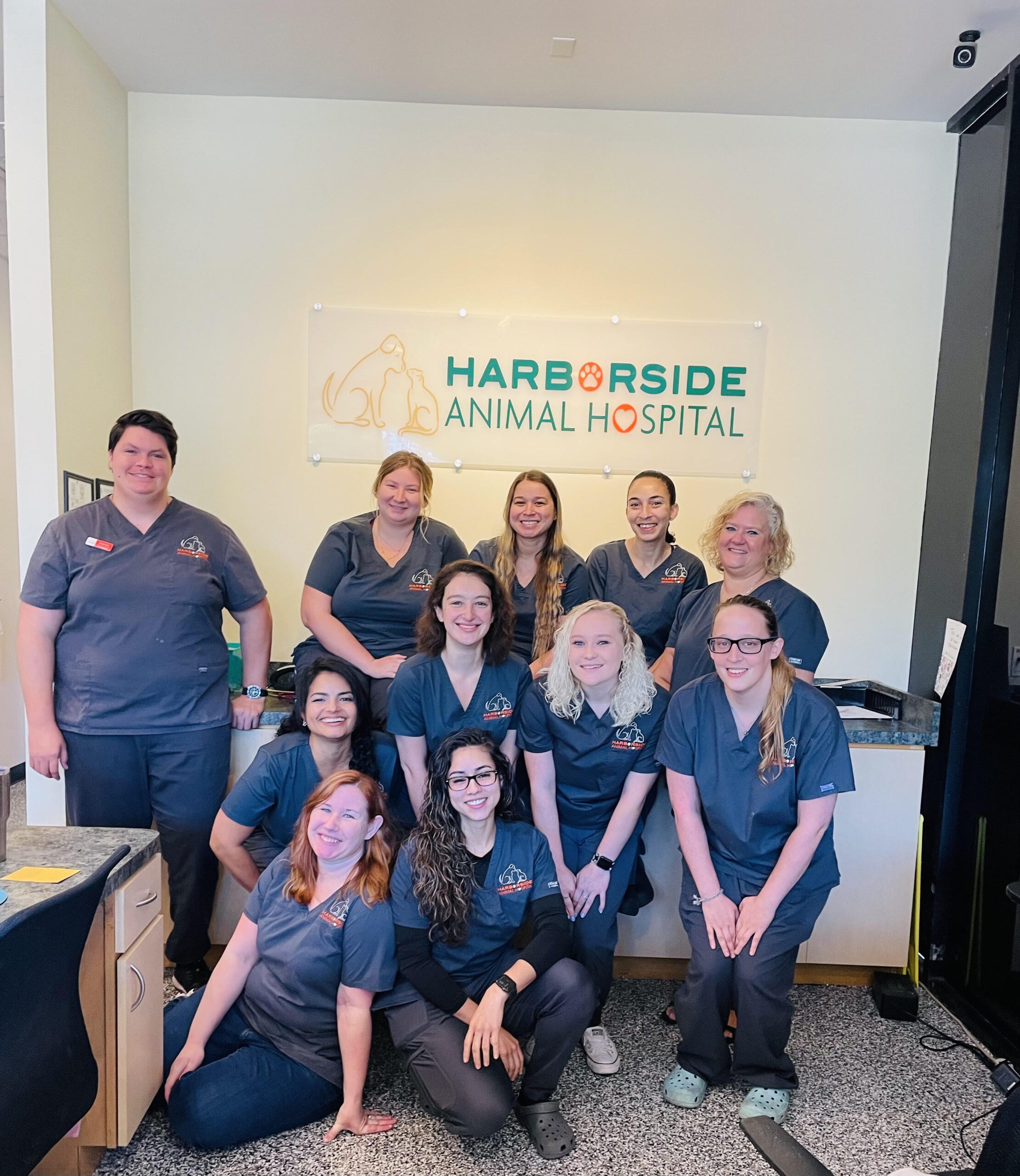 TECHNICIANS
Our technicians are hands on trained to our gold standard of care and they can't wait to get to know you and your pets!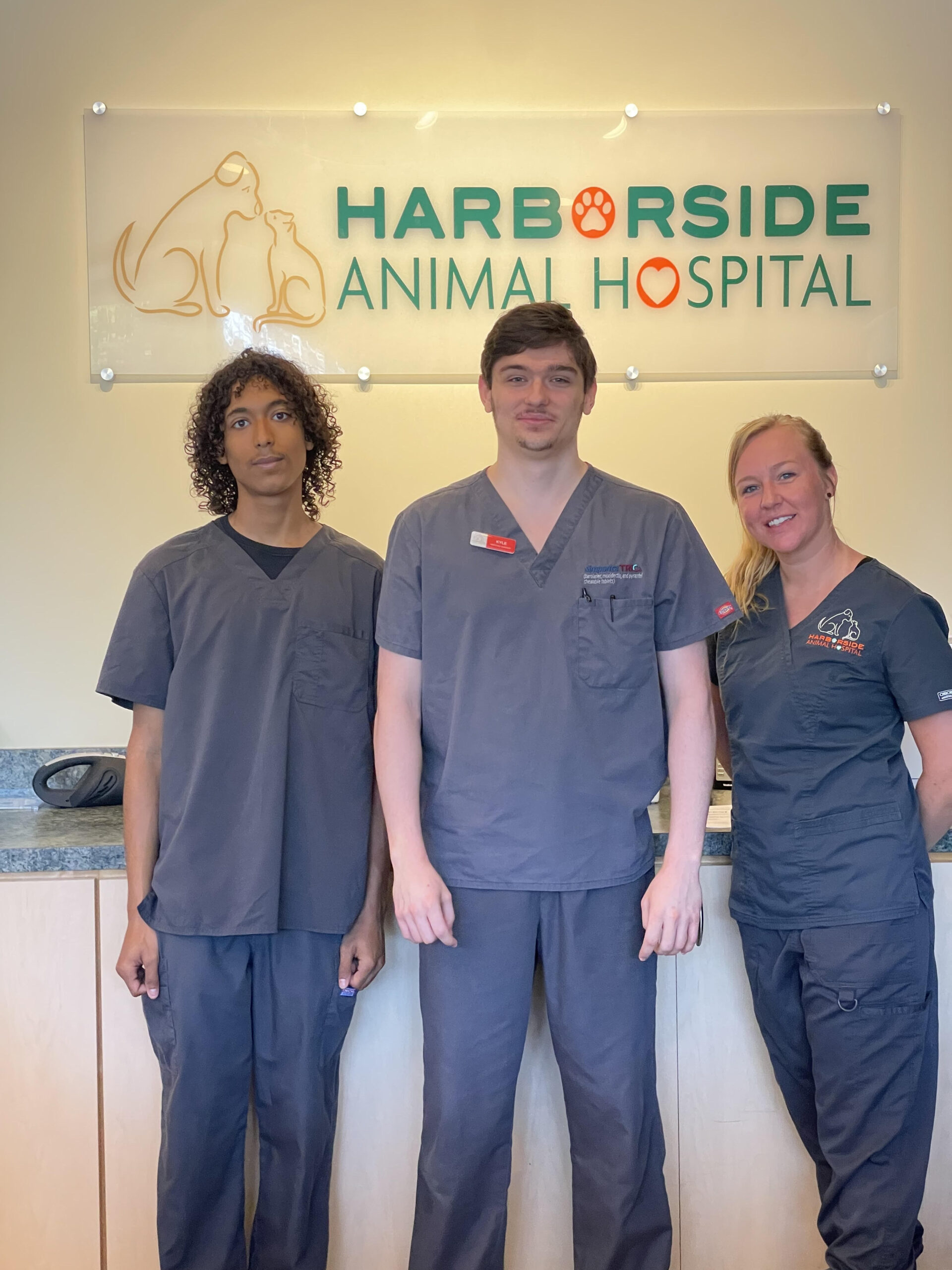 ASSISTANTS
Our compassionate assistants work hand in hand with the rest of our team to help ensure your pets are provided with the best care we can offer.